Pics or it didn't happen
10.

Toss a Coin Into the Trevi Fountain – Rome, Italy
Naina Co. / Via
If you've ever seen a movie set in Rome chances are you're familiar with the Trevi Fountain. It's said that Roman Soldiers were led to springs of pure water out of what was once Rome and from this spot August commissioned the building of this aqueduct which was used for a hot water system for over four hundred years. In reality, the fountain we have today was started in 1732 and finally finished in 1762. Natives will tell you the best way to ensure your wish will come true is by tossing it with your right hand over your left shoulder. An estimated 3,000 Euros are thrown into the fountain each day, but don't get any big ideas, if you're caught going in after your coin, you'll end your night in jail.
9.

Magic Fountain of Montjuïc Light Show – Barcelona, Spain
Jay Lee / Via
While the fountain and Avinguda Maria Cristina are beautiful in the daytime, at night they turn magical. Since its first show on May 19, 1929, the theatrics have only grown. It'll add some sparkle to anyone's evening.
8.

John Lennon Wall – Prague, Czech Republic
Chris Ciolli / Via
What started in the 1980's as a form of rebellion against Communist rule has continued and turned into a really fantastic art spot and memorial. Bring your paint, markers, or pens and let the world know you were in Prague!
Note: They will occasionally come and white wash the wall to make room for the next wave of travelers so don't drive yourself crazy looking for the initials you left 3 years ago.
7.

Leprechaun Museum – Dublin, Ireland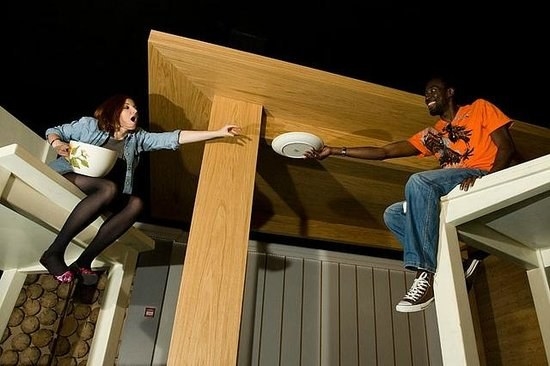 The Leprechaun Museum / Via
I can truly not stress enough how cheesy, touristy, and fun this place is! While there are the goofy rooms, such as experiencing a human room from the perspective of a leprechaun (see above), you also get to learn about the history of leprechauns as well as other Irish and Gaelic folklore! And who knows you might just find the pot of gold at the end of the rainbow!
6.

Camden Market – London, England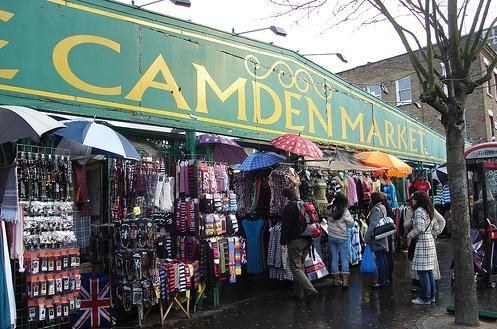 Johnny K / Via
Open seven days a week, Camden Market offers visitors a fun and festive way to shop. Yes, you will eat too much. Yes, you will shop too much. Yes, you will spend too much money. Or maybe not! Even if window shopping is more your thing, the market has something for everybody! (I have a Banksy pillow case at home to prove it!)
5.

Biking along the Amstel River – Amsterdam, Netherlands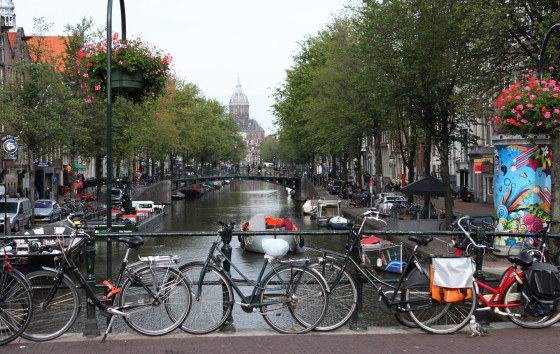 Biking Amsterdam / Via
I hesitate to refer to this as touristy because if you really want to see the city as a local, hop on a bike! Not only is Amsterdam an incredibly bike friendly town, but you can get in some great exercise while you're there. If you're a little timid on two wheels there are plenty of bike tours to choose from or take off on your own adventure! I can genuinely say Mokummers (Amsterdammers) are some of the most patient people in the world when it comes to exploring tourists.
4.

Bath Houses – Budapest, Hungary
Nicolette Acosta / Via Facebook
Budapest is home to two thermal bathhouses and one medicinal all built in the 16th and 17th centuries and beautifully restored. Explore the healing waters of the cold vs hot baths and spend some time sweating those toxins out in the sauna. For an extra fee some of the bathhouses also offer spa services depending on how much you want to invest in your relaxation.
3.

Drinking Under the Eiffel Tower at Night – Paris, France
Nicolette Acosta / Via Facebook
This activity can be as cheap or as expensive as you like! Several people will attempt to way overcharge you for bottles of cheap champagne when you get to the tower's surrounding area, but if your French is up to snuff you can barter them down relatively quickly. But whether you're drinking champagne, wine, or water grab a loved one, old friends or new and take in one of the most beautiful cities in the world. I highly suggest getting there for sunset, but then staying for the light show which happens for five minutes at the top of every hour following sunset until 1:00 AM.
2.

Visiting the Barbary Macaques Monkeys – Gibraltar
Jennifer Cleveland / Via
Home to the Europe's only wild monkey population, Gibraltar is a huge draw for animal lovers! Not only is the backdrop absolutely gorgeous, but you also get to see completely free monkeys go about their day!
Note: These monkeys are super cute, but they're also WILD. Do not attempt to touch, hold, or feed them, any of that is done at your own risk.
1.

Oktoberfest – Munich, Germany
Nicolette Acosta / Via Facebook
This can be one of the more expensive stops on the list, but it's an experience you'll keep with you for a lifetime. Not only is Oktoberfest the world's largest beer festival in the world, it's also one of the biggest draws in all of Europe with over 6 million visitors annually! It's a great way to make friends from around the world and bonus points if you go for the dirndl and/or lederhosen!
Disclaimer: Be sure to hit the food stalls as hard as you hit the beer halls AND TIP YOUR BEER MAIDENS